Hello Friends, Happy May. I am just going to jump right in and get on with the recap. April was a little nuts. SO let's begin.
Firsts things firsts, I turned 30 in April (on the 7th)-- Wha?!?
I was little bit... uh, stunned that I was turning 30. But the day came and it turned out to be pretty fantastic. I have some truly amazing friends who made me feel incredibly special. So, 30 is here and I am feeling okay. I got a number of pretty great books as gifts, I think I'll showcase them in a separate post though.
A week after 30, a couple friends and myself took off to Vegas for the weekend. It was my first time to Vegas and what a whirl wind it was. It was an exhausting weekend.
After Vegas (as in after Easter, which meant Lent was over), I joined the team and flew through 13 Reasons Why
I have a few thoughts about this show, mostly in response to the critics. I read Jay Asher's book years ago- 2011 I think, and I remember the general concept of the story, but none of the details. So, I felt like I went into the show blind. I thought it was well done. I really liked Clay- or Dylan Minnette. He was a sweetheart. The show and its content are super controversial- but I think it has an important message.
The Books:
April was a significantly slower month than March. But as you saw- I was busy. BUT- I did a cool thing in April- I participated in my first Buddy Read, My internet BFF Aylee over at
Recovering Potter Addict
and I, took on the challenge of budding reading The Thief. Essentially this buddy read just comprised of us reading to a certain page and/or chapter that day. The two of use weren't always successful, but it was fun, and I would totally do this again.
Number of Books Completed:
7
Physical Books:
5
Audiobooks:
2
Physical Books:
Confess by Colleen Hoover (3 Stars)
The Chosen by JR Ward (4.5 Stars)
The Tycoon's Revenge by Melody Anne (2 Stars)
Never Let You Go by Chevy Stevens (3 Stars)
The Thief by Megan Whalen Turner (4 Stars)
I don't have a particular favourite for this month- I thought the latest installment of the Black Dagger Brotherhood - The Chosen - was a pretty great addition to the ever growing series (this was book 15), but it didn't blow me away. I am hoping to read some amazing books this next month.
Audiobooks:
Six of Crows
by Leigh Bardugo (4.5 Stars)
Sleeping Giants
by Sylvain Neuvel (3.5 Stars)
Favourite Listen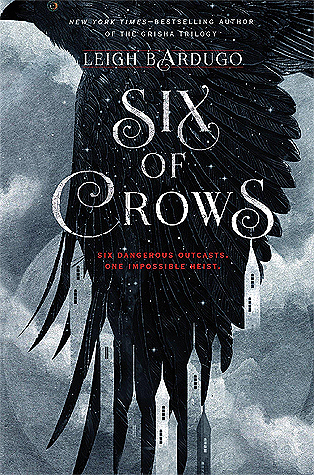 This book was SO good!!! I can't believe it took me SO long to finally get to. I loved the audiobook, all the narrators. I am pretty sure I loved Jesper's narration the best. There was really something great about the guy. If you haven't read this... What are you waiting for?
2017 Resolutions Update:
If you want to check out my actual resolutions/goals for the year, check them out
here
.
I think I did pretty good job with my reading goals this month. Without really even trying.
I am on track for the my 100 book challenge. I have still read more books than I listened to- seeing as I only listened to two this month. I read two 2017 releases, The Chosen and Never Let You Go. I read one more from my list- The Thief, and I listened to ONE of my back listed audiobooks- Six of Crows- I am getting there.
I think I am going to keep with my audiobook buying ban for one more month. I also would like to read 7 books this month and listen to two from my back list I'm pretty sure this is doable.


That was my April I hope you enjoyed.

~Happy Reading Everyone