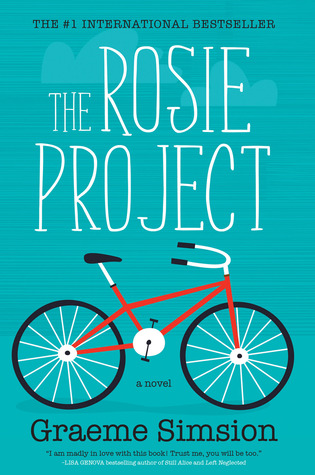 Narrator Don Tillman 39, Melbourne genetics prof and Gregory Peck lookalike, sets a 16-page questionnaire The Wife Project to find a non-smoker, non-drinker ideal match. But Rosie and her Father Project supersede. The spontaneous always-late smoker-drinker wants to find her biological father. She resets his clock, throws off his schedule, and turns his life topsy-turvy.
Where to even begin. I read
The Rosie Project
at the recommendation of a non-blogger friend. She read it and really enjoyed it, and thought I would as well. I wasn't opposed to the idea of reading this novel, but as you all will know: There are SO many books and so little time. In saying that, I have gotten into the habit of listening to audiobooks more and more lately. Mostly at work. And I felt like this one fit the bill. SO, voila, there I was, listening to
The Rosie Project
. All I have to say is- Hannah, you were right.
I don't know why I didn't want to read this book.
Graeme Simsion
is an Australian author, and I love Australian author. I have not read a single book by an Aussie author that I did not like. So, that's that. Also,
The Rosie Project
is just so darn cute! There is so much going for this book.
Don Tillman, what a character. He's a genetics professor and he is incredibly logical and by the book, It's hard for him to think outside his box. It's alluded that Don has undiagnosed Asperger's Syndrome, which affects the way he interacts with life. When Don decides it's time to find a spouse, he does so in his own way. He develops a questionnaire outlining characteristics for a suitable wife. And for Don there is no deviating from this list of qualities. Then walks in Rosie, and Rosie is anything but suitable wife material (according to Don). But still, Don is drawn to Rosie.
Don Tillman, what a gem! I absolutely adored this man. He was so incredibly charming. We've all met someone like Don, but I don't think many of us have recognized their charm. He was very much like Sheldon Cooper of Big Bang Theory- but maybe less self absorbed and rude. I think Don will be a character that stays with me for a very long time. He was just special. Than there is Rosie, and she changes everything for Don. He doesn't know what to do with himself when it comes to her. His very logical, clean cut existence is now all messed up.
I absolutely love what Simsion has done with this story and what he has done for Don. He took Asperger's Syndrome and was able to help people relate to it. He was able to showcase how the mind of someone with this syndrome works. What a unique concept. This book and this character, I tell you.
One quick note on the audiobook- it was brilliant. Narrator Dan O'Grady is fantastic. He was Don. Exactly. It was so easy to be swept up in this one. I was very productive the three days it took me to listen to this 7 1/2 hour novel. This listener experience is up there with
Will Grayson, Will Grayson
.
Overall,
The Rosie Project
is a book worth reading! It will make you laugh out loud (a lot, I have so many favourite parts), it will make you weepy and it will make you go awwww! What more could you want?
~Happy Reading Everyone!