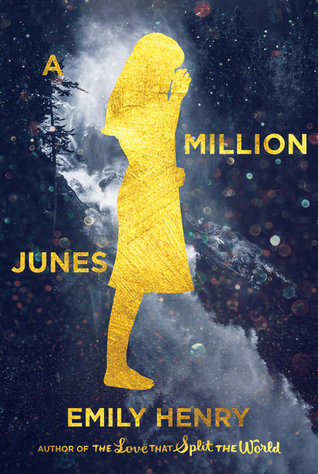 For as long as Jack "June" O'Donnell has been alive, her parents have had only one rule: stay away from the Angert family. But when June collides—quite literally—with Saul Angert, sparks fly, and everything June has known is thrown into chaos.

Who exactly is this gruff, sarcastic, but seemingly harmless boy who has returned to their hometown of Five Fingers, Michigan, after three mysterious years away? And why has June—an O'Donnell to her core—never questioned her late father's deep hatred of the Angert family? After all, the O'Donnells and the Angerts may have mythic legacies, but for all the tall tales they weave, both founding families are tight-lipped about what caused the century-old rift between them.

As Saul and June's connection grows deeper, they find that the magic, ghosts, and coywolves of Five Fingers seem to be conspiring to reveal the truth about the harrowing curse that has plagued their bloodlines for generations. Now June must question everything she knows about her family and the father she adored, and she must decide whether it's finally time for her—and all the O'Donnells before her—to let go.
As some of you may or may not remember. I loved Emily Henry's debut novel
The Love That Split the World
which I read last year. I enjoyed that book so much that when I heard she was writer
A Million Junes
and it would out this year, I knew I needed to read it as soon as I could. It was one of my most anticipated reads of 2017. It took me a couple months to finally get to it, but once I did, I fell in love and have determined that Henry is absolutely one of my auto-buy authors.
I should preface the remainder of this review with a bit of a disclaimer-
A Million Junes
is not going to be for everyone. This story contains a large amount of magical realism and requires a reader to really suspend belief. Not everyone can do this, but if you can, you're really in for a treat. Henry has this amazing way of writing a beautifully whimsical tale that readers can just sink into and enjoy.
Ugh- her writing. I don't know what to say- it's beautiful. I got so much joy from reading this book. The writing flows so beautifully, and it's almost lyrical, poetic even. This kind of writing is needed in this story. Particularly since the blend between magic and real life were seamless and just incredible. In the same vein,
A Million Junes
is very much a story about loss and grief, and what that looks like for our protagonist, June.
June is a stunningly complicated character. She is grieving the death of her father. Although it has been a number of years, his absence came at a very pivotal moment in her young life. She misses their special relationship and with the reappearance of family nemesis Saul Angert, shes struggling with this sense of loyalty. Her father's one rule was to stay away from all things Angert. No matter how drawn she is to all things Angert.
I could go on and on about
A Million Junes
and how enamoured I was with this story. The writing is beautiful the characters are amazing, I haven't even mentioned Saul, which is a crime, really. He was incredible, I loved him and June together, it really was like they couldn't help their relationship. I loved June's mother and step father, I appreciated their presence in the story. It was so good guys.
Overall,
A Million Junes
was such a joyful experience for me. I loved every minute of my reading experience. If you are a fan of magical realism and you enjoy poetic writing I think you will love this book. Emily Henry is for sure on my auto-buy list. Easily one of my favourite reads this year.
~Happy Reading Everyone.