Hello friends,
I am excited to bring to you my 2016 End of the Year Book Survey, created and developed by Jamie over at
the Perpetual Page Turner
, I missed out on this survey last year- which was pretty sad for me. But I am here this year and I have some pretty cool books to talk to you about.
I was all about the reading experience in 2016- did I have fun reading what I was reading. I have been caught up wanting to find that next five star read, that I forgot that reading brings me joy and is my happy place. I rediscovered that in the latter part of the year.
Anywho... here goes.
Number Of Books You Read:
98
Number of Re-Reads:
7
Genre You Read The Most From:
Adult Contemporary

Young Adult- The Love That Split the World by Emily Henry.
This book was amazing. It was unique and fun. A coming of age story, featuring an Indigenous main character. The story explored First Nations spirituality and time travel, which may sound odd, but it really wasn't.


Adult- I Let You Go by Clare Mackintosh
This book was a wild ride! Such a great reading experience. There were twists and turns and character developments I was never expecting. This book was heartbreaking and completely unputdownable.





2. Book You Were Excited About & Thought You Were Going To Love More But Didn't?

Ready Player One by Ernest Cline
It wasn't that I disliked this book- not at all. I just didn't connect with the eighties theme as much as others. It was still a really fun book. I am pretty curious about the movie.


3. Most surprising (in a good way or bad way) book you read?

Dracula by Bram Stoker
This one was really surprising for me. I wasn't expecting the style in which the story was told, and I was also expecting to see more of the title character. I still really enjoyed this book, it was fascinating.
4.
Book You "Pushed" The Most People To Read (And They Did)?
I don't think I really pushed any book this past year. I pushed
The Couple Next Door
and
Behind Closed Doors
to a couple friends, just to have someone to talk to about both books.
5. Best series you started in 2016? Best Sequel of 2016? Best Series Ender of 2016?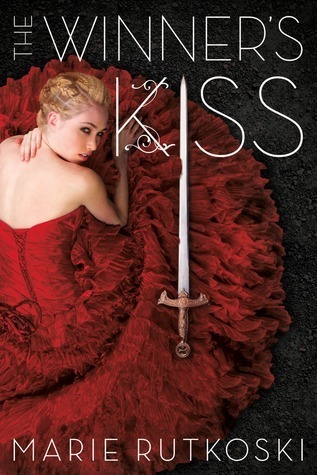 Best Series Started:
A Court of Thrones and Roses
by Sarah J. Maas
Best Sequel: A Court of Mist and Fury by Sarah J. Maas
This was the year of Maas for me. I was hesitant to start this series because I thought it was going to be very similar to Throne of Glass, boy was I wrong, ACOTAR was great, I read that book in two days, but ACOMAF was something else- I could not read fast enough. Reading that book helped me remember what I love about reading.

Best Series Ender: The Winner's Kiss by Marie Rutkoski
This series is near and dear to me. I really enjoyed it. The last book took me a minute to get into, but I really enjoyed it in the end. It was a solid series ender.
6
.
Favorite new author you discovered in 2016?
Whitney G - author of
Sincerely Carter
,
Reasonable Doubt
and
Turbulence
.
I binge read Whitney's book this past year. I started with Reasonable Doubt and moved onto everything after that. Boy, can she write sexy times, and alpha males that are crass and loveable. She's on my auto-buy list now.


7. Best book from a genre you don't typically read/was out of your comfort zone?
I Let You Go
by Clare Mackintosh
I delved into the world of thrillers this year, which is a genre I don't normally gravitate towards. But, I have found a new love. I love psychological thrillers now, and I just can't get enough. I Let You Go was phenomenal.


A Court of Mist and Fury by Sarah J. Maas
As I mentioned earlier- this book was such a great reading experience for me. It was SO addicting. I just could not put it down.


9. Book You Read In 2016 That You Are Most Likely To Re-Read Next Year?
A Court of Mist and Fury by Sarah J. Maas
I have been feeling the urge to reread this book, but I think I am going to wait until close to the release of A Court of Wings and Ruin.





10. Favorite cover of a book you read in 2016?

The First Time She Drowned by Kerry Kettler
This cover is beautiful! I just love it SO much!


11. Most memorable character of 2016?
Dante from Aristotle and Dante Discover the Secrets of the Universe by Benjamin Alire Saenz
Dante knew who he was and he was totally and completely unapologetic about it. It was beautiful.

12. Most beautifully written book read in 2016?

The Little Prince by Antoine De Sainte- Exupery
What a beautiful story. I was completely blown away by this story. If you have not read this book, please do.

Tell the Wolves I'm Home by Carol Rifka Brunt

This book addresses the emergence of AIDS in the eighties. About a young girl who idolizes her uncle who has recently died of AIDS. There was so much fear and shame during that time. This book was heartbreaking and really forces you to take a look at stigmas and societies response to them.


14. Book you can't believe you waited UNTIL 2016 to finally read?

Pride and Prejudice by Jane Austen
I know, I know. I can't believe it either. But I finally got this one read, and it was everything I ever wanted.
15. Favorite Passage/Quote From A Book You Read In 2016?
"Grown-ups never understand anything by themselves, and it is tiresome for children to be always and forever explaining things to them"
- The Little Prince
16. Shortest & Longest Book You Read In 2016?
Shortest:
The Little Prince
by Antoine De Sainte- Exupery - 83 pages

I Let You Go by Clare Mackintosh
This book guys- it took me on so many crazy rides, and yes, it certainly shocked me a number of
times.

18. OTP OF THE YEAR (you will go down with this ship!)
(OTP = one true pairing if you aren't familiar)

Blue and Gansey from The Raven Cycle by Maggie Stiefvater
Even though I don't think I fully understood the details of this story, or Blue and Gansey's relationship. But I was rooting for them the whole time.



19. Favorite Non-Romantic Relationship Of The Year

Scorpius and Albus from Harry Potter and the Cursed Child
Even though I really disliked this story, really loved the friendship between Albus and Scorpius. It was sweet and lovely. Basically the only good thing about the book.



A Court of Mist and Fury by Sarah J. Maas
Broken record- I know.
21. Best Book You Read In 2016 That You Read Based SOLELY On A Recommendation From Somebody Else/Peer Pressure:

A Court of Thorns and Roses Sarah J. Maas
Like I said, I wasn't going to read this book, but Stephanie from
Ohana Reads
is a HUGE Maas fan and she pushed this series like mad, she was even present when I bought it. I read it- and now I am hooked.


22. Newest fictional crush from a book you read in 2016?

Rhysand from A Court of Mist and Fury by Sarah J. Maas
Okay, I am done talking about this book now.
23. Best 2016 debut you read?

The Hating Game by Sally Thorne
This was such a fun read. So sweet and funny. It wasn't a complicated romance. I really liked it.

24. Best Worldbuilding/Most Vivid Setting You Read This Year?

This Savage Song by Victoria Schwab
World building is something Schwab is a master at. I may not have loved This Savage Song but I certainly appreciated the way I was able to visualize the world Schwab created. It was incredible.
25. Book That Put A Smile On Your Face/Was The Most FUN To Read?

The BFG by Roald Dahl
I finally reread this book after like 20 years. And it felt like coming home. There was this sense of happiness that came over me as I was reading this book.


26. Book That Made You Cry Or Nearly Cry in 2016?

Tell the Wolves I'm Home by Carol Rifka Brunt
A book about people who are suffering from AIDS. It's a complicated story. So many misunderstanding and misinformation. Grief and death. There were tears, so many tears.



27. Hidden Gem Of The Year?

Tell the Wolves I'm Home by Carol Rifka Brunt
This book is a few years old, first published in 2012, but I don't remember hearing anything about it back then. Which is madness, because it's such an incredible story, and so incredible.

28. Book That Crushed Your Soul?
All the Bright Places by Jennifer Niven
This book is so important. Mental illness is a very real thing, and more people need to be aware of it, and all the different faces it wears. All the Bright Places was (for me) a very authentic display of bi-polar disorder. The manic highs and the intense lows. This book broke my heart.
29. Most Unique Book You Read In 2016?
The Five People You Meet in Heaven
by Mitch Albom
This was an interesting book for me. A man dies, and what he encounters in the after life is incredible. Five people, some random, some not, but all influenced where his life went. It was a lovely story.
30. Book That Made You The Most Mad (doesn't necessarily mean you didn't like it)?
A
Head Full of Ghosts
by Paul Tremblay
The end of this book infuriated me! I found it to be SO gimmicky and there for shock value, I didn't think it added to the plot at all. Ugh, just thinking about it now makes me SO angry!
I am only taking on the book portion of the survey, it's what you are all here for anyways. I hope you enjoyed. ALSO- I did not include any rereads in my answer, with the exception of The BFG, if I did, I would have answered Harry Potter for every single question. Anywho, Happy New Year, friends. Be safe and happy this coming year.
~Happy Reading Everyone!