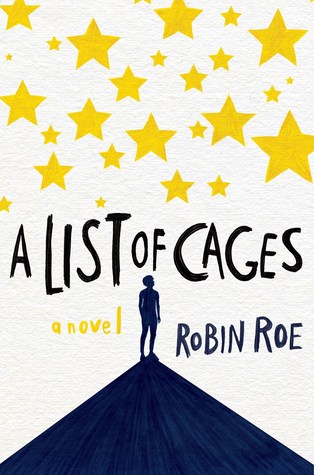 When Adam Blake lands the best elective ever in his senior year, serving as an aide to the school psychologist, he thinks he's got it made. Sure, it means a lot of sitting around, which isn't easy for a guy with ADHD, but he can't complain, since he gets to spend the period texting all his friends. Then the doctor asks him to track down the troubled freshman who keeps dodging her, and Adam discovers that the boy is Julian—the foster brother he hasn't seen in five years.

Adam is ecstatic to be reunited. At first, Julian seems like the boy he once knew. He's still kindhearted. He still writes stories and loves picture books meant for little kids. But as they spend more time together, Adam realizes that Julian is keeping secrets, like where he hides during the middle of the day, and what's really going on inside his house. Adam is determined to help him, but his involvement could cost both boys their lives…
I am going to say this right off the bat guys- This is one of the best books I have ever read. For real. It is worth ALL of the HYPE it's been getting. After some thought, I don't think I can properly review this book, but I will try and share some of my thoughts in a semi coherent fashion.
I don't think I can summarize Robin Roe's
A List of Cages
the way it deserves, but I will kind of try. Generally, the book is all about Julian and Adam and their friendship. Where it starts, how it develops and is sustained. It's actually quite beautiful. I went into the novel knowing very little about the plot and I think that was a good decision. It's best going into this book now knowing a lot, it'll really add to the experience.
I bought this book on a Saturday, started reading it on Sunday afternoon, finished it Monday after work. I NEVER read a book that fast. If you plan on reading
A List of Cages
, make sure you have some time. This is not a book that is easy to put down. It's a book you could easily read it one sitting. It wasn't an easy book to read. It deals with some serious topics: mental health, abuse, learning disabilities. It's absolutely heartbreaking. But Roe also makes it incredibly hopeful.
A List of Cages
is not at all a hopeless story.
I loved this book and everything it said. There is a lot more I could tell you: The story is told in dual perspective and I loved that. I loved hearing from the two voices. I loved the focus it puts on friendship and the lasting affect it can have. I loved the beautiful way this story was told, Roe has a real gift with words. And I love Julian- he's such an amazing character and he's so special.
I know these thoughts of mine were all over the place, but it's hard to share about something that meant so much to you. This book is an amazing and I am very glad to have read it.
Overall, I am going to be pushing this book HARD this year. Everyone should read it. Love it and share it.
~Happy Reading Everyone!