Hello Friends,
I will probably say this every month, but I am amazed at how quickly the months are flying by! Before we know it, summer will be here. We've been hit with a wicked cold snap here in the Peg, and I am SO over it. I hate the cold. I am ready to stop wearing my winter coat and a scarf, I am ready for short pants and my Birks. Oh well, maybe in another month, I will sitting here telling you how amazing the weather has been (fingers crossed).
I missed February's wrap up as things got away from me at the end of the month. My sister had a beautiful baby girl named Milah on the 20th of February, and I am OBSESSED with her. She's a lovely little thing. Around the same time I was having a few minor health concerns (nothing crazy and I am fine), so a wrap up kind wasn't a huge priority.
SO, what happened in February/March:
Oh, well, for Lent (Which went from Feb 14-Mar 31), I gave up watching TV. I did this last year for Lent, however I allowed myself to watch TV on the weekends, which didn't exactly give me the discipline I was looking for. This year, I could watch it socially- as in if I was invited by someone to watch. This meant, I didn't watch a huge amount of TV during the week (well any really). It was kind of fun, however, really difficult at times (particularly after a hard day at work). Lent is now over, and I would like to continue restricting my TV watching, I maybe keeping it only to weekends. We'll see.
However, even with all that extra time, I still don't feel like I got a lot of reading done these last two months. But let's get to it.
The Books:
Total Books
15
8/Feb & 7/Mar
Physical
8
4/Feb & 4/Mar
Audio
7
4/Feb & 3/Mar
Physical Books
Feb:
Here We Are Now by Jasmine Warga (3 1/2 Stars)
The Cruel Prince by Holly Black (4 Stars)
The Hate U Give by Angie Thomas (5 Stars)
Finding Winnie by Lindsay Mattick Illustrated by Sophie Blackall (5 Stars)
Mar:
The Roanoke Girls by Amy Engel (1 1/2 Stars)
Milk and Honey by Rupi Kaur (1 Star)
The Queen of Attolia by Megan Whalen Turner (4 Stars)
Dearest Ivie by JR Ward (4 Stars)
Favourite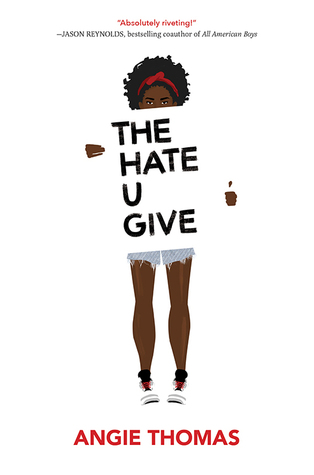 How did I not read this book before now? Completely worth the hype- 100% worth the hype.
Audio Books
Feb:
Falling into Bed with a Duke by Lorraine Heath (3 1/2 Stars)
Brain on Fire by Susannah Cahalan (4 Stars)
Modern Romance by Aziz Ansari (4 1/2 Stars)
The Lucky Ones by Tiffany Reisz
Mar:
Death and the Girl Next Door by Darynda Jones (4 Stars)
Fourth Grave Beneath My Feet (Reread)
I've Got This Round by Mamrie Hart (4 Stars)
**So my audio book count for this month is a lie- I really should add on four more books. I listen to books 4-8 of the Charley Davidson series by Darynda Jones (one of which I counted above). This was completely by accident. I wanted to listen to Fourth Grave Beneath My Feet because it's my favourite in the series and I wanted to relive it, and I kind of fell down a hole after that.**
Favourite
This one is SUPER surprising! A friend and I went down to Fargo (the second closest American city, about four hours away), specifically to listen to this book. And we did it. This books is hilarious! And so insightful. I loved that it was narrated by Ansari himself.
2018 Goal check in: To see a full list of my 2018 goals, go
here
.
Both February and March were great. I was successful with all of them. I read two 2018 releases each month (barely), I've read at least one adult novel per month, as for non-fiction, I am at 3 for the year (I made up for January's miss by consuming two in February). I have also knocked off TWO books from my list of seven: The Hate U Give and The Queen of Attolia. I think sometime in April I'll do a quarterly check in or something, and share my thoughts on some of the books. I am still failing on my audio book/physical book goal. Audio books are still a thing for me. My goals is to work on that for April.
Anywho, that was a long winded wrap up. If you're still here- Thank you!
Until next time,
~Happy Reading Everyone.