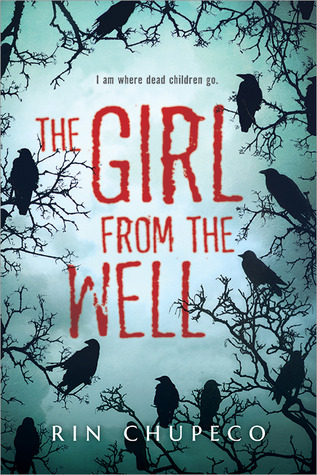 You may think me biased, being murdered myself. But my state of being has nothing to do with the curiosity toward my own species, if we can be called such. We do not go gentle, as your poet encourages, into that good night.

A dead girl walks the streets.

She hunts murderers. Child killers, much like the man who threw her body down a well three hundred years ago.

And when a strange boy bearing stranger tattoos moves into the neighborhood so, she discovers, does something else. And soon both will be drawn into the world of eerie doll rituals and dark Shinto exorcisms that will take them from American suburbia to the remote valleys and shrines of Aomori, Japan.

Because the boy has a terrifying secret - one that would just kill to get out.

**review copy received from Netgalley**
Let me start off by saying that I am a chicken! I do not do horror. I can't stand being scared. It stresses me out, and I find that I stay scared for a long time afterwards. When I was ten, The Shining miniseries aired on TV, I only watched the first two parts and was so terrified, I had to sleep with my little sister (who joyfully watched the whole thing) for a year. I couldn't sleep in my own bed. Then, when I was 15 I decided to get over my fear and go see The Ring... in theatres. I think I only saw about 40% of the movie, and to this day I have never seen the end. I just don't do scary. So, boy was I shocked when
The Girl from the Well
turned out to be a full on horror novel.
Let me preface by saying, a couple years ago I read
Anna Dressed in Blood
and loved it. It was a ghost story, but I didn't find Anna all that scary. In some ways, I was expecting
Rin Chupeco's
novel to be similar. Uhhhh... no.
The Girl from the Well
, is full blown Japanese ghost story, completely scary. The story begins with Okiku (the ghost), stalking her prey. The Stained-Man who bares the soul of the girl he murdered on his back, unknowing that his life is about to end. This is what Okiku does, she avenges the children who have been so brutally torn from the world. She releases their souls, as they are tethered to their murderers. And she has been doing this for hundreds of years. And she can't stop, she has this internal hunger that she cannot ignore.
Because Okiku can travel away from the place where she was so brutally murdered (which defies everything I know about ghosts), she finds herself in a small American town, specifically, an American boy- Tark- who is haunted by his very own ghost.
The story is narrated/told completely from Okiku's perspective, she was the one telling the story. Which was
odd, but it worked. It certainly added to the creep factor. The instances where she was out avenging the murdered children were intense. The reasons why she was killing were there, but so was her indifference to the mutilation she was responsible for. One thing you must understand about Okiku, she is not an evil entity intent on revenge, however, at the same time, she does take some pleasure in her kills. Just as you are starting to become sympathetic towards her, she'll do something crazy.
What I absolutely love about
The Girl from the Well
, was that Okiku's voice was completely authentic. This is a true testimony to how great of a story teller
Rin Chupeco
is. The pace of the story was fantastic, the way
Chupeco
would describe things-specifically Okiku and all other creepastic occurrences- was phenomenal. I was scared. Seriously.
There are so many things I want to address. there were other players in
The Girl From the Well
, Tarquin and Callie, and they were fantastic characters, and essential to the story. However, for me, Okiku was the star. I was so absorbed in her story and her motives and how incredibly complex she was. Every character is well rounded. There was so much Japanese folklore in this story and I LOVED that. Japanese ghost stories are (according to me), the freakiest things around. It was chilling.
Overall,
The Girl from the Well
, is definitely one of my favourite reads of this year. It was chilling and all encompassing, I couldn't put it down.
Rin Chupeco
did an amazing job of telling a ghost story that was horrifying, and had me scared, but it was not overwhelmingly bloody. She absolutely knew who she was writing this story for, and respected that. I am in awe, and I am SO excited to see what else she brings to the table.
The Giveaway:
***Open to CANADA/US address only***
~Happy Reading Everyone!