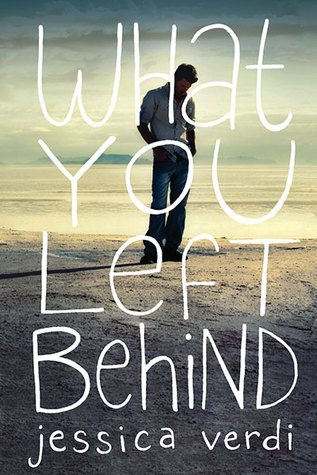 It's all Ryden's fault. If he hadn't gotten Meg pregnant, she would have never stopped her chemo treatments and would still be alive. Instead, he's failing fatherhood one dirty diaper at a time. And it's not like he's had time to grieve while struggling to care for their infant daughter, start his senior year, and earn the soccer scholarship he needs to go to college.

The one person who makes Ryden feel like his old self is Joni. She's fun and energetic—and doesn't know he has a baby. But the more time they spend together, the harder it becomes to keep his two worlds separate. Finding one of Meg's journals only stirs up old emotions, and Ryden's convinced Meg left other notebooks for him to find, some message to help his new life make sense. But how is he going to have a future if he can't let go of the past?

**Review copy received from publisher**
Let me tell you a story: It had been a long time since I sat down to read a book. I just didn't have the time. I was either studying, cooking, exercising or staring at my ceiling to tired to do anything. But I had an urge one weekend. I was giving up on real life and responsibilities and I was going to dive in and read a book. Knowing I only had two "free" days I knew I needed a book that would suck me in from the beginning and that I could get through quickly.
Jessica Verdi
provided me with this once, when I read her novel
My Life After Now
- and I thought, why not? What You Left Behind was my story of choice.
What You Left Behind
walks us through Ryden's life after his girlfriend Meg, dies of cancer. BUT- Meg didn't just die. She died after giving birth to the couple's daughter. leaving Ryden to not only grieve her death, but also navigate his new role as dad. Ryden now has to change diapers and work a part time job right alongside high school and maintaining what remains of his current friendships.
The big thing that really stuck out for me in this book was how imperfect Ryden was. What I mean by this is that he was so completely human and his reactions to his current situation were realistic. There were times where he would be selfish and stubborn. He would often appear confused about his life and he would make bad decision that had no logical rational. This all made sense when you really looked at what he was living with. I really enjoyed that about the book. At the same time, Ryden was sometimes really annoying. There were a couple times where I would find myself rolling my eyes, thinking, "dude? What are you doing?" But what's important to remember, Ryden was a kid, a teenager, and he was dealing with some very adult things.
Verdi
did a great job of not glamorizing Ryden's reality. Being a teen parent wasn't cool, you lose your friends and it's harder to connect with people. You have a ton of new responsibilities. overall it's pretty isolating. Ryden's new life was hard.
Something else I want to mention briefly was how Ryden related to Hope- his daughter. For a good part of the book, he didn't. He cared for her and provided for her in the way that he could. But it was more out of a sense of responsibility and obligation. He loved her, yes. But again, because he was supposed to. Ryden struggled to connect and bond with her. It was heartbreaking. It was also a completely authentic view of real life. The grieving teenager, wanting to care for and love the little baby, but not knowing how. He was experiencing so much guilt, shame, anger, sorrow, that it was difficult to look at Hope and find joy in her.
Overall,
What You Left Behind
was a novel I really enjoyed. I really loved how it didn't sugar coat anything. It showed a hard situation for what it was. And Ryden didn't get everything he wanted.
Jessica Verdi's
novels really resonate with me. Maybe it's because I can see the reality of her stories. That's pretty cool to me. For that reason, I look forward to her books and will continue to read them.
~Happy Reading Everyone!