Hello Friends,
Happy second last month of the year. I literally cannot believe it is November, that we have someone whipped through 10 months of the year in a blink of an eye. October was whirlwind of a month, I have much to share with you, and I hope you stick with me.
So, On October 3rd, myself and a group of my greatest friends got up at 4:45am packed ourselves into a 15 passenger van and began what would be a 20+ hour journey to Detroit, Michigan (with a quick 14 hour pit stop in Chicago, Illinois). We went to a conference in Detroit on community development. It was an incredible trip- driving with my friends was fantastic and fun, the conference was challenging and inspiring. I really love learning about community development and seeing that other people are also choosing to live in community. It was an incredible experience. Like always, I immediately got sick when I got home, but it was worth it.
Shortly after I got home, I applied for a seasonal position at Chapters/Indigo. I have ALWAYS wanted to work for Indigo and I was SUPER excited when I got the interview and was offered the position- I am now a Customer Service Representative- I am SO excited about this, and while I haven't actually worked the floor yet (just orientation and training), I am keeping my fingers crossed that this position will extend past the holiday season. And yes, I continue to maintain my full time employment. I just thought working two jobs would be a good idea.
In all of that, I have also somehow managed to complete the whole first season of This Is Us which appeared on Netflix this past month. I have a few thoughts on this show. I, at no point, felt the need to binge the show- I mean it took me all month to watch the 18 episodes. It's really a show about nothing, but it's SO good at the same time. I quite enjoyed it.
The Books
So because October was a bit life busy. I did not read very much. I am actually kind of embarrassed with the amount I actually read. I had a fair number of audiobooks, but actually read- pitiful.
Total Books
8
Physical Books
2
Audiobooks
6
Physical Books
1) Hers to Take by Talia Ellison (1 Star)
2) Rebel of the Sands by Alwyn Hamilton (4.5 Stars)
Favourite Read
This book was SO fun. I really really enjoyed it. I plowed through the first half while on my drive home, but as soon as I got home, I put it down and didn't read another work for a week and half. When I finally picked it up again, I finished it almost immediately. It was well written and a really fun story. I was very impressed.
Audiobooks
1) The Gentleman's Guide to Vice and Virtue by McKenzi Lee (4 1/2 Stars)
2) Wicked Wish by Sawyer Bennett (3 1/2 Stars)
3) Duke of Manhattan by Louise Bay (3 1/2 Stars)
4) A Study in Charlotte by Brittany Cavallaro (1 1/2 Stars)
5) Burn for You by J.T. Geissinger (4 Stars)
6) Eleventh Grave in Moonlight by Darynda Jones (4 1/2 Stars) -- Reread
Favourite Listen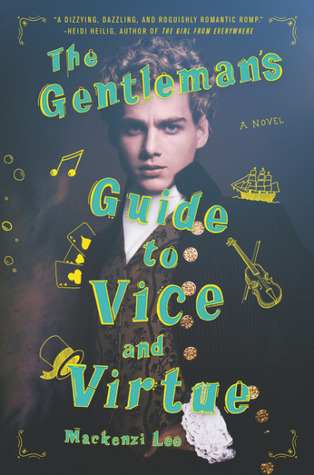 Are you surprised? This books has been getting a lot of hype, and rightfully so. This little book was so great. I found myself laughing often, Monty was completely selfish and endearing. He had absolutely no clue. If you have no read this book, I would suggest you do so immediately.
So I physically read TWO books last month, which is abysmal. I plan on changing that in the next couple months. I took a count to see how many physical books I've read versus how many audiobooks I've listened to, and the numbers aren't to far apart.To date I have read 40 physical books and listened to 43 books. My hope it to get to 55 physical books, this may seem a bit ambitious, but I am hopeful (I would like to get to 52 at least).
That's it for me and the month of October. What were your favourite reads of the month? Was there a particular book you hated? I would love to hear all about them.
~Happy Reading Everyone.