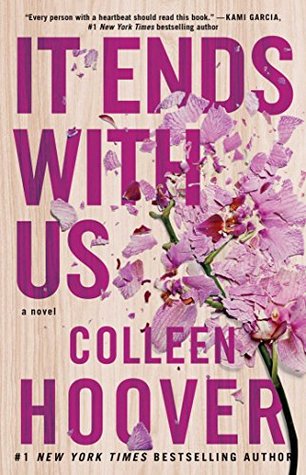 Lily hasn't always had it easy, but that's never stopped her from working hard for the life she wants. She's come a long way from the small town in Maine where she grew up—she graduated from college, moved to Boston, and started her own business. So when she feels a spark with a gorgeous neurosurgeon named Ryle Kincaid, everything in Lily's life suddenly seems almost too good to be true.

Ryle is assertive, stubborn, maybe even a little arrogant. He's also sensitive, brilliant, and has a total soft spot for Lily. And the way he looks in scrubs certainly doesn't hurt. Lily can't get him out of her head. But Ryle's complete aversion to relationships is disturbing. Even as Lily finds herself becoming the exception to his "no dating" rule, she can't help but wonder what made him that way in the first place.

As questions about her new relationship overwhelm her, so do thoughts of Atlas Corrigan—her first love and a link to the past she left behind. He was her kindred spirit, her protector. When Atlas suddenly reappears, everything Lily has built with Ryle is threatened.
So-
Colleen Hoover
- who hasn't read anything by
Colleen Hoover
? She's all over. I myself have read three novels by
Colleen Hoover
, one was so unmemorable to me I totally forgot I read, never mind what it's about. The other was good, really good- if not a bit dramatic. And than there is
It Ends With Us
. This book was much anticipated and there was major buzz surrounding it. Even I was eager to get my hands on it. There were whispers that
It Ends With Us
was unlike anything
Hoover
had ever produced.
Even though every one and their cousin has read this book... In short (and without spoilers),
It Ends With Us
revolves around Lily and her relationship with Ryle. And what a complicated relationship that is. I am hesitant to say much more than that. What really allows this book to pack such a punch is going into it blind. So there's that.
So, what are my thoughts? It's going to be hard for me to express my thoughts while keeping things secret. So I shall split them into what I liked and what I didn't really like.
What I Liked:
There were elements in this book that I found incredibly insightful and I thought
Hoover
did a great job and exploring the complications of Lily and Ryle's relationship- nothing is ever black and white. I appreciated that. Throughout the book Lily writes diary entries which she addresses to Ellen Degeneres- this was a nice touch. It was through these journals that we got snapshots into Lily's past and the events that formed her. Both Lily and Ryle have some amazing people in their corner and some amazing supports. This was a major plus for the novel.
What I wasn't sure about:
The pace of the book felt a little funny to me. It's not a short book, coming in at 384 pages. But I felt like there was so much going on that it could probably have been longer. To me, there were some things that were well developed and well rounded out, and others that felt rushed. I felt this way particularly with the beginning of Lily and Ryle's relationship. I found it a bit insta-lovey, regardless of how things played out. Ryle also makes some shifts regarding his views on relationships that were a little eye-rolling and unbelievable I felt the same when Atlas returned- I wasn't fully convinced by his connection with Lily.
I am going to say this outright- the issues (if you could call them that)- should not make you not read this book. I just thought I would mention them. I think you should read this book- it broaches some pretty intense topics and addresses them in some pretty interesting ways. I am not sure this was an amazing book (as everyone else seems to think), but I am glad I read it.
Overall, I enjoyed
It Ends With Us
, and I think it's important book to read. I gave it a solid 3 stars- maybe a 3.5 stars.
~Happy Reading Everyone!