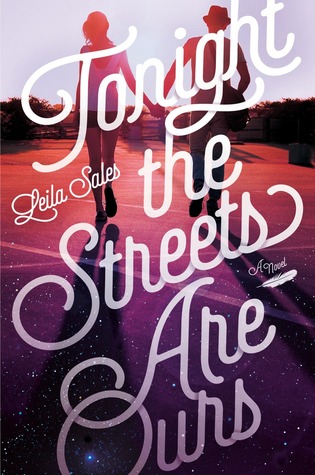 From the author of This Song Will Save Your Life comes a funny and relatable book about the hazards of falling for a person you haven't met yet.

Seventeen-year-old Arden Huntley is recklessly loyal. Taking care of her loved ones is what gives Arden purpose in her life and makes her feel like she matters. But she's tired of being loyal to people who don't appreciate her—including her needy best friend and her absent mom.

Arden finds comfort in a blog she stumbles upon called "Tonight the Streets Are Ours," the musings of a young New York City writer named Peter. When Peter is dumped by the girlfriend he blogs about, Arden decides to take a road trip to see him.

During one crazy night out in NYC filled with parties, dancing, and music—the type of night when anything can happen, and nearly everything does—Arden discovers that Peter isn't exactly who she thought he was. And maybe she isn't exactly who she thought she was, either

**Review copy received from publisher
Tonight the Streets Are Ours
, is a book I have been anticipating for some time now.
Leila Sales
blew my mind with
This Song Will Save Your Life
, that I gifted the novel six different times, to six very different people, all of whom loved it. It was THAT good! That story resonated with me in such a special way and I was very eager to see what
Sales
was going to bring to the table with her newest tale.
Tonight the Streets Are Ours
is about a girl- Arden- trying to figure herself out, and she's not really sure how to do that. Arden, once described as recklessly loyal, doesn't know that the means for her anymore, and she's trying to work that out. Arden loves deeply and is fiercely protective, and this has defined her for most of her life. However, she's now wondering if that's enough for her. Her ever present mother has taken off for the big city, her workaholic dad has done little to pick up the slack, she is finding it hard to connect with her best friend and she's wondering if her boyfriend is really what she needs. With all these on her mind, Arden stumbles across Peter's blog and instantly she is drawn to him and the content she finds on his blog.
As I mentioned, I adored
This Song Will Save Your Life
, and I wanted more of that. I wanted to experience the same wonder and awe. I didn't get that that with
Tonight the Streets Are Ours
. That's not saying it wasn't a good story, it was. I just didn't connect with it as much as it's predecessor. It was still a powerful story, with with important and valuable things said. I appreciated how Arden was able to find her niche in the end.
One thing that sort of irked me though, was how long it look Arden and Peter to actually meet. The synopsis suggests that this is a large part of the story. It's not. It's more than half way through the novel before Arden and Peter actually speak to one another face to face. This was a bit disappointing. There was a lot of buildup to this meeting and than- nothing really (I am trying to avoid spoilers here). Another thing that I wasn't super convinced with the Arden's relationship with her best friend Lindsay. I didn't understand why they were friends. They didn't seem to have a thing in common. I wasn't sure they even really liked each other. In the beginning, I felt like Lindsay was using Arden, and didn't really value their friendship. This does seem to mimic how Arden's feeling throughout the novel. She's feeling really unappreciated.
For me, one of the best parts of the novel was Peter. Peter is completely not what he seems, and I loved that. I really don't want to spoil anything here, so I am not going to say much, other than, Peter is far from perfect and has a very narrow view of his surroundings. I enjoyed this part of the book.
Overall, I went into
Tonight the Streets Are Ours
, with very high expectations. I was looking for a similar reading experience to the one that I had with
This Song Will Save Your Life
, which I think does this novel a huge disservice. I was in a different place a year and a half ago. I really did enjoy
Tonight the Streets Are Ours
, I loved the characters and how imperfect they were (this seems to be a theme for me). Sales has a made a fan of me and I am looking forward to more from her.
~Happy Reading Everyone!