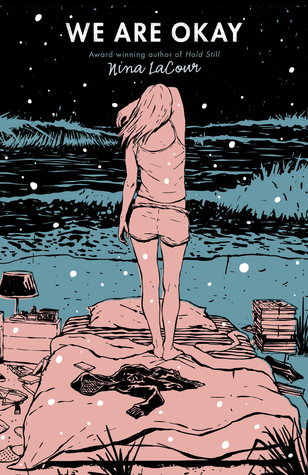 You go through life thinking there's so much you need…

Until you leave with only your phone, your wallet, and a picture of your mother.

Marin hasn't spoken to anyone from her old life since the day she left everything behind. No one knows the truth about those final weeks. Not even her best friend, Mabel. But even thousands of miles away from the California coast, at college in New York, Marin still feels the pull of the life and tragedy she's tried to outrun. Now, months later, alone in an emptied dorm for winter break, Marin waits. Mabel is coming to visit, and Marin will be forced to face everything that's been left unsaid and finally confront the loneliness that has made a home in her heart.
I did it! I read this book. There has been quite a bit of buzz surrounding Nina LaCour's latest novel-
We Are Okay
, people seem to be loving it. So I decided it read it as one of my 2017 reads. One of the first things I noticed when I first picked this book up from the library was how small it was- not only is it short at just over 230 pages, but it's overall size is itty bitty. I absolutely loved the cover, I want to own this book just for the cover alone.
We Are Okay
is Marin's story and basically it's her trying to figure out her like. Where she came from, where she's been and where she's going now. She fled her hometown very suddenly and the end of a very eventful summer and didn't tell anyone. Now, it's three months later, Christmas time and Marin is finally ready to share why she left. So, Mable- the BFF is coming and Marin is a mess.
I liked this book, but I didn't love it. I struggled to connect with the story and the characters. I didn't think there was anything particularly special about anyone. Honestly I thought it was kind of boring. A lot of the book was Marin worrying about Mable's reaction to her story. I think Marin's emotional struggles were important at the beginning on the story, but three quarters in, it got to be a little tedious and borderline whiny. I found there was very little gross in the first couple sections of the book.
We Are Okay
is told from both the past and the present. The past is the summer before Marin flees. She's home with her grandfather, who had been her sole care provided since her mother died when she was very young. The present is the abandoned campus with both Mable and Marin and their awkward interactions. I much preferred the stretches of the book that were sharing the back story- the past. I think it revealed a lot of Marin's character and where she was coming from (as it was meant to). The present, as I said before, was little tough for me.
I really appreciated the relationship Marin had with her grandfather, they loved one another and respected one another and it was lovely. It wasn't a perfect set up, they had these rules and boundaries that were a little odd- which are explained and are kind of a key element to the story- I really liked their little unconventional family. I also really appreciated Marin and Mable's "past" friendship. They were your typical high school friendship. Marin's second home was with Mable's family. They did everything together, you'd think nothing could tear these two a part.
While
We Are Okay
wasn't an amazing book, there are elements to it that are incredibly important. Both Marin and Mable are LGBTQ*, however this isn't a key feature of the story- it's just there. Mable's family is a Latin American family and their culture is rich and diverse, and again, this is not a big deal, I think Nina LaCour did a great job incorporating these little elements of diversity and making them just a normal, every day thing- because that's exactly what they are- normal life.
Overall, I didn't love
We Are Okay
. It was a fast read, and it had some interesting things to talk about. But I didn't find it mind blowing. In all honesty, I find this story to be pretty forgettable. I think it had a lot of potential, but something got lost. I would suggest you read it- particularly if you've been curious about it, or you like contemporary, otherwise, I think there are better stories out there.
~Happy Reading Everyone.