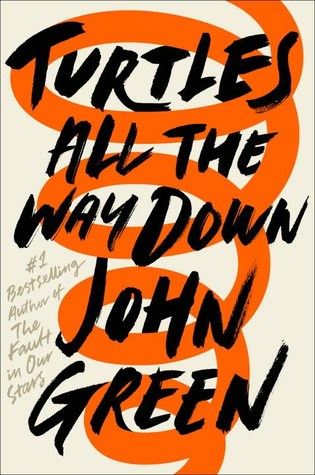 Sixteen-year-old Aza never intended to pursue the mystery of fugitive billionaire Russell Pickett, but there's a hundred-thousand-dollar reward at stake and her Best and Most Fearless Friend, Daisy, is eager to investigate. So together, they navigate the short distance and broad divides that separate them from Russell Pickett's son, Davis.

Aza is trying. She is trying to be a good daughter, a good friend, a good student, and maybe even a good detective, while also living within the ever-tightening spiral of her own thoughts.
So, John Green wrote another book.
I didn't think I was going to read
Turtles All the Way Down
(never mind review it) as quickly as I did. I mean as of writing this review, this book has been on the shelves for five weeks, and I don't generally read new releases so soon after release date (Aaaaaaaand I got it from the library), so I am kind of impressed with myself.
Turtles All the Way Down
was HUGELY anticipated and the hype surrounding it's release was off the charts. I get it, John Green is a big seller,
The Fault in Our Stars
was something else, and that was five years ago. That right there, five years since readers have had anything new from their beloved author. There was much excitement surrounding this book. As of right now, this book has over 30,000 ratings on Goodreads with an average rating of 4.23 stars. That's huge!
So, I read
Turtles All the Way Down
. Is it worth the hype? Is it worth all the five star ratings and all the love it's been getting? I will tell you all,
Turtles All the Way Down
is the best book I have read by John Green, and I have read all of them with the exception of
An Abundance of Katherines
and the Christmas anthology.
What did I love about this book-
First off, I want to talk about Aza- our protagonist. I adored her. I was completely charmed by her, and my heart broke for her and her struggle. Aza is fighting a war that is OCD. Not just OCD, but OCD of intrusive thoughts, and they often completely consume her and can be incredibly disruptive to her life. This is something Green himself is also battling and you can really tell that Aza is written from a place of knowing. This aspect of the novel was just breath taking. As a person who does not have OCD, I can't even imagine having to navigate life with this constant form of anxiety.
Turtles All the Way Down
, was just incredible (in case you didn't get that already), I am still thinking about this book and I can't wait to reread it. I feel like when Green takes his time and writes about something important to him (this is me making assumptions about his previous works and what they meant- I just am familiar with the reasons he wrote TFiOS and Turtles and feel like this was very present in the final product of both books), the outcome is something magical, and inspiring. I am not sure how to explain it, but I feel like I was experiencing a dramatic realization- that doesn't make sense, I just feel like I got the point, like REALLY got the point - whatever it was.
This story certainly had the typical Green elements. It features intelligent (maybe above average intelligent) teenagers, who use big words and speak in philosophical metaphors that I, as a 30 year old woman, wouldn't even think to use. But I give Green kudos for this. Teens aren't stupid, they aren't unintelligent and I think a lot of YA novels don't give them enough credit. I find this "mature" language used by Green's characters very refreshing. And I think for any teen reading this, it's good to see that language can be expanded, even when you're young. In the same vein, there has been some criticism regarding the end of
Turtles
and how it's gets pretty lofty in it's philosophical jargon, I didn't notice it, but maybe that's cause I didn't get it. Who knows?
Overall,
Turtles All the Way Down
was amazing. I should really stop underestimating John Green and what he brings to the table. This novel blew me away and I can't stop talking about it. If you want an own voices account of OCD and how disruptive it is, read this book.
~Happy Reading Everyone