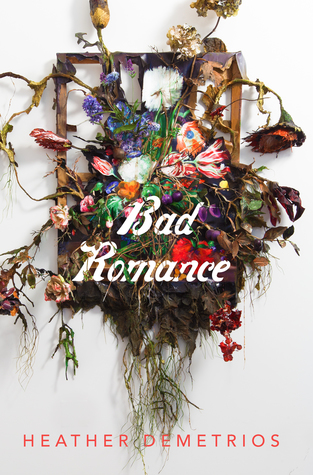 Grace wants out. Out of her house, where her stepfather wields fear like a weapon and her mother makes her scrub imaginary dirt off the floors. Out of her California town, too small to contain her big city dreams. Out of her life, and into the role of Parisian artist, New York director—anything but scared and alone.

Enter Gavin: charming, talented, adored. Controlling. Dangerous. When Grace and Gavin fall in love, Grace is sure it's too good to be true. She has no idea their relationship will become a prison she's unable to escape.

**Review copy received from publisher for my honest review**
This book was kind of intense- and I wasn't expecting it to be. I know this may seem strange considering the content, but
Bad Romance
is the third book I have read by Heather Demetrois- the previous two I didn't particularly enjoy- I think I rated the two books two and three stars I think. Therefore I was not expecting very much from this one. I was very wrong,
Bad Romance
kind of blew me away.
When I become aware of a novel that addresses domestic violence, I tend to gravitate towards them, particularly in teen dating relationships. These types of relationships are very real and I believe it is important that they be featured in YA contemporary novels. Especially if teens can use these stories to recognize potential dangers in their own relationships.
Bad Romance
does a really amazing job of realizing a lot of the major aspects of what can encompass an abusive relationship. I am completely impressed with how well Demetrois addressed this issue in her book.
Bad Romance
tells the Story of Grace and Gavin and their relationship from start to finish. Grace hasn't had it easy in life, her mother is distant and her step-father is controlling at best. Grace does not have a lot of control in her life and she is doing the best she can. When she attracts the eyes of Gavin, the most popular boy in the school, she begins to believe things are looking up for her.
It is no secret that Grace's relationship with Gavin is not the golden bright relationship she's expecting. Very early on Gavin's behaviour begins to exhibit the tell tale signs of abuse and control. It starts off small, Gavin makes off the cuff comments and slight criticisms that for the most part went unnoticed. As the story progressed, Gavin's control and obsession with Grace grew, and was noticed by those close around her. Demetois has either been a victim of domestic violence herself, or she's researched the cycle of violence and how it can present very well, as none of Gavin's actions throughout the story seemed over the top or exaggerated. While I have never been a victim of domestic violence directly, but I have seen it first hand- and I am very familiar with what it looks like. The relationship was a very accurate portrayal of what such a relationship could look like. So are Grace's responses to her relationship. She was constantly making excuses for Gavin and underplaying his over the top reactions. This is something that happens regularly in these kinds of relationships.
There were a few things that irked me in the way the story was told, however, it's really not important. None of this took away from the story and what it was trying to say. Heather Demetrois really hit it out of the park with
Bad Romance
and I am SO glad.
This book is triggering. If you have been in a victim of domestic violence, this story has the potential to really hurt you. But I also think this book is so powerful and so important.
Overall,
Bad Romance
was an important read for me, and I am glad to have read it. I am grateful to Heather for having the courage to write such a story. I would encourage everyone to read this. This is book that was created for much more than entertainment, so much more.
~Happy Reading Everyone.