Hello Friends!
I am- like most of you, I'm sure- astonished that it is already June. How? This year is just flying by. I am can barely handle it. May was a fairly good month, busy, but good. Over the long weekend some local bloggers and myself were able to have dinner with Canadian author Kelley Armstrong, and it was pretty fun. She was in town for KeyCon, and we spent a few hours discussing books, book conventions, what actually goes into making a book into a movie (it's a long and complicated process), and so on. She was lovely and as always it was fun to hangout with my local blogging buddies. Other than that, May was pretty quiet.
In May, I binge watched iZombie. I started watching this one by accident and got totally hooked. I was SUPER tired one day and needed something mindless to watch. In comes iZombie. I watched one episode and than three others, before I knew it I was completely hooked. The show is so clever and funny. I love Olivia and Ravi and Clive- Okay, I am just a fan of everyone. Yes, I know this show isn't for everyone, but it was fun to watch. I am not completely caught up, but I am done with the first two seasons.
The Books:
May was an odd reading month for me. It was completely taken over by Sarah J. Maas. Yup, I read over 1300 pages of Maas text this past month. It was kind of crazy.
A Court of Wings and Ruin
took me ages to read, I think maybe 2 1/12 weeks, not because I didn't like it/couldn't get into it, only because it was SO long, and I could only read in short bursts. Whew, it was good though. After that, I went into a kind of bookish hangover and read a lot of crap- I discovered that Apple has a Kindle app, and I could download it onto my phone, and get all the $1.00 romances I want. So, I read a few.
Number of Books Completed:
8
Physical Books:
5
Audiobooks:
3
Physical Books:
A Court of Mist and Fury by Sarah J. Maas (5 Stars) Reread
The Dilf by London Hale (2 Stars)
A Court of Wings and Ruin by Sarah J. Maas (4.5 Stars)
Daddy's Best Friend by Londan Hale (3 Stars)
The Guest House by Sasha Jayne Moretti (3.5 Stars)
Favourite Read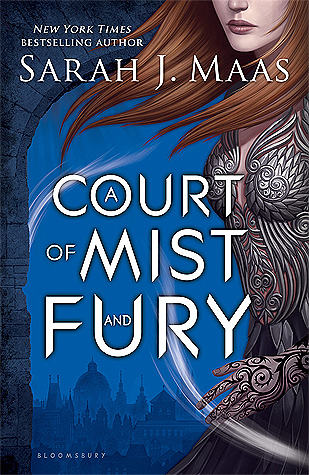 I reread A Court of Mist and Fury in preparation for A Court of Wings and Ruin. It was great. I did not imagine how good it was the first time. This was a great reread, and this is for sure my favourite of the three.
Audiobooks:
Lolita by Vladimir Nabokov (5 Stars)
The Unseen World by Liz Moore (5 Stars)
Seasons of Love by Harper Bliss (3 Stars)
Favourite Listen of the Month
I have been wanting to read this book for years. I am pretty sure this Russian classic has been on my yearly TBR for the last five years. I finally got to it. It was kind of incredible. Lolita is such a disturbing novel with really messed up content. But there was something about this book. It's wicked and heartbreaking, SO beautifully written. Anyone who has read Lolita will know what I am talking about. Yes, I am conflicted about liking this one SO much, but I just did.
2017 Resolutions Update:
For a full overview of my 2017 goals go
here
.
Well, May was an interesting month for my goals. I am a couple books behind on my Goodreads goal of 100 books, I am not to worried about this, I am fairly confident I'll catch up by the end of July. I continue to read more books than listen- this might change this month, but meh. I read at least one 2017 release- A Court of Wings and Ruin. All three of my audiobooks of the month were off my audible library's backlog- I still have a ways to go, but I'm getting there. I may break my buying ban (let's be honest, I already have). And I read Lolita- which was on my list of seven (I only have 3 more from that list to read and more than half a year left to do it). Overall, I am feeling pretty good about my goals this year.
I have pledged to read 50 pages a day- this may seem not very difficult, but I am very easily distracted and forget to read on some days (I have failed a couple days already), but we shall see. I like giving myself little goals. I even created a tracking spread in my bullet journal- I am very pleased with it.
May on the Blog
That's it for my wrap up, I hope you enjoyed. I am busy with a few things in June, which might hinder my reading time, but I'm hoping to read some pretty great books anyways.
~Happy Reading Everyone