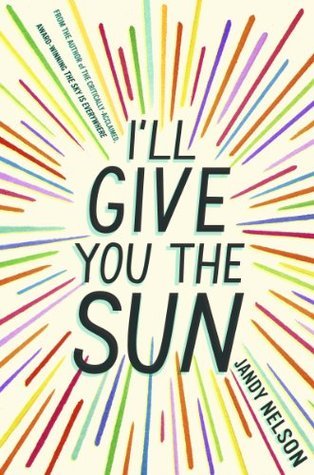 Jude and her twin brother, Noah, are incredibly close. At thirteen, isolated Noah draws constantly and is falling in love with the charismatic boy next door, while daredevil Jude cliff-dives and wears red-red lipstick and does the talking for both of them. But three years later, Jude and Noah are barely speaking. Something has happened to wreck the twins in different and dramatic ways . . . until Jude meets a cocky, broken, beautiful boy, as well as someone else—an even more unpredictable new force in her life. The early years are Noah's story to tell. The later years are Jude's. What the twins don't realize is that they each have only half the story, and if they could just find their way back to one another, they'd have a chance to remake their world.
I have so many different feelings when it comes to
Jandy Nelson's,
I'll Give You the Sun
. I had heard so many good things about this one, I don't think I'd seen a single negative review. So, I was pretty excited to get to it. However,
I'll Give You the Sun
, took me FOREVER to read. I want to say the whole month of January. This is a long time for me. Why though? Why did it take me so long to get through? Let's see...
I'll Give You the Sun
is the story of twins, Jude and Noah, a brother and a sister, with little in common, but still, are bound to one another by some magical unseen force. Both Jude and Noah narrate this story. It is their story to tell- no more Jude's than Noah's. While Jude tells the present day story, Noah reveals it's past. This aspect of the novel, ended up working in it's favour, The two different narrators really took me a bit to get comfortable with. I normally really enjoy the back and forth of a story- I really like flashbacks (If I Stay, Jellicoe Road), I like when there are two stories being told at the same time, and seeing where they connect.
In the case of
I'll Give You the Sun
. The back and forth drove me crazy. I think because I was getting bits and pieces of the same story. And I was never certain what was going on. When I finally got a handle on the way the story was being told, I found myself enjoying what
Nelson
was offering way more. I was maybe half way through the story, when I finally found the rhythm. It really was the first half of the novel that took me the longest to read. Because after that first hurtle I flew.
I'll Give You the Sun
, was a beautifully written novel, about misunderstandings and missed opportunities.
Jandy Nelson
is an author that everyone needs to experience. I felt so much while reading this book. It was nothing less than magical. I don't know how else to say it. The way Noah experienced life was beautiful, and completely inspiring. His relationship with art is like nothing I have ever read about. I am in wonder now just thinking about it. Jude was a harder character to unravel, but you do, and she's amazing in her own way. Jude has done some pretty hurtful things, and in her story she's punishing herself for it all, or searching for redemption? One of my favourite things about
I'll Give You the Sun
is Jude's relationship with her mentor, sculptor Guillermo. It's so special and perfect.
Both protagonists have their little romances, and they are wonderful in the same way that this whole book is wonderful. But really,
I'll Give You The Sun
, is about how people relate to one another. How Jude and Noah relate to each other and both stages of their life. They've lost one another and are trying to figure out where to go from there.
Overall, I absolutely loved this book. It's beautifully written and is nothing short of magical. It does have a slower start, and it does take some perseverance. But it's completely worth it. This book is a must read.
~Happy Reading Everyone